In Turkey, when I lived there as a little girl, it seemed to my childish mind that everyone and everything smoked.  Men flicked ashes onto the sidewalk outside a spice stand with hues of orange spice like pyramids held in burlap sacks, women in headscarves, taking a break from the day's work, exhaled snaking clouds, smoke curling in front of a wide grin and a belly laugh, old men played backgammon and took turns puffing on a hookah.  Even the vehicles smoked, diesel trucks belching into the flow of traffic, taxis honking and puffing black as they nosed into the flow of traffic, an arm slung out the window holding a pinched cigarette, the men yelling "Allah" and ignoring the color red on the traffic lights.
Yes, smoking seemed as embedded into Turkish life and culture as coffee is in America today.  So it's no surprise that there is a food called sigara borek.  Translation:  cigarette borek.  I have no doubt that such a dish with such an off-putting namesake might not be embraced whole heartedly in my country.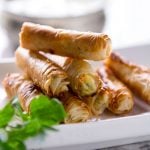 But, trust me, despite the name, it is delicious and not cancer-causing (at least as far as I know–but if you smoke a pack of these babies a day, all bets are off).  So, what is involved?  Phyllo dough, feta cheese, scallions, parsley, eggs and pepper–all part of my list of foods I can't live without.  Here's a great recipe with some lovely pictures of cigarette borek from a site called panningtheglobe.com (photo courtesy of this site).  Check out this old favorite of mine and maybe try making it at home.  Trust me, they'll go fast! 
But keep an eye on the boreks once you pop them into the oven, or you might find your oven smoking like a big, blue, Turkish worker's bus.